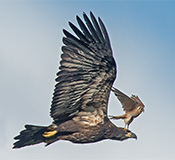 My favorite photo - a newly fledged Bald Eagle has a feisty American Kestrel take a ride for a second, taken at the river behind the house.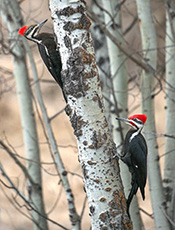 Pileated Woodpecker pair in the front yard. New photos nearly every day on our Blog page!



Things are always hopping at the Raptors of the Rockies organization. We're taking care of the birds and maintaining their enclosures, we're conducting raptor programs at local schools and organizations across Western Montana, art is flying out of the studio, we're taking photos and shooting video, we're out in the field birding and/or doing research, and much, much more.

To help you keep up with the flurry of activities happening at Raptors of the Rockies, we're blogging on a more-or-less daily basis and our most recent posts are listed below. Enjoy!
---
Flap Flap FlapPosted: Tue, 27 Jun 2017I think the three young eagles will leave the nest in a week, maybe the 4th of July which would make them 85 days old! Around 80 days is the average, flapping and climbing around in the nest tree in anticipation of departure. They'll still return to the nest for weeks, but a big first flight. In other Bald Eagle nests one bird usually lingers longer, but not in this one as they always all leave at once, more or less. How patriotic as both chicks fledged on Independence Day four years ago.

---
Otto and Kate In 1998Posted: Sat, 24 Jun 2017

Back in Clinton, on the Clark Fork River behind the house. Otto looked just the same.
---
Bald Eagle EveningsPosted: Thu, 22 Jun 2017Weird but all I have seen at the beach the last three trips are the eagles and no Ospreys or falcons. Officially dark at 8:26 pm, and now the days will get shorter. The first shot is a huge chunk of meat being delivered by the female who made several passes and out of breath to get it up to the nest. Roadkill? And the same bird being attacked by a bunch of ravens, just because.

---
RIP Our Rough-legPosted: Tue, 20 Jun 2017Poor Otto the Rough-legged Hawk died yesterday, and a surprise as he was getting around his building and eating mice on his own. I had been treating him for illness for just over three weeks and I thought he was on the mend. I suppose it was old age as he joined us as a hatch-year bird in 1997, handed over from a rehabber. A car collision and broken wing prevented him from being released and I named him after my Dad's buddy that was visiting at the time, Gene "Otto" Miller. Our Red-tail Alisa died this spring of "acute clostridial enteritis, rare in raptors" and I'll find out more. What a terrible year this has been.

---
Fox PhotosPosted: Sun, 18 Jun 2017I took an alternate route home from Stevensville yesterday (buying a squirrel trap!) and lo and behold, four baby foxes were playing on a big log pile. After a while a neighbor drove by and said there were eight, but he must have been counting the adults as the males help raise the young. My first ever fox photos, unlike pal Rob Palmer that filled a book (Swift Foxes.)

---
Sculptures Galore!Posted: Fri, 16 Jun 2017
---
Raptors And Art at the MAMPosted: Wed, 14 Jun 2017Pal Bev Glueckert and I have been teaching a week-long summer camp for the Missoula Art Museum for about 15 years, and here is the class of 2017. Owls on Monday, hawks and falcons Tuesday, and today the paper mache raptor sculptures begin! The artists had live models and Ruby shows off her Peregrine drawing for a promo film for the MAM with Sibley to her left. Lily draws a Saw-whet with Owen the owl in the background. One year we were doing this class on the U of M campus and they accidentally booked us in the Botany Building lecture hall. Our sculptures were constructed in the parking lot, quite entertaining to the bystanders.

---
Back to the BeachPosted: Mon, 12 Jun 2017I hadn't been down in a week and even then never got any photos, then the water dropped and a bonanza last night. Here are a few - female eagle plunging from the scenic snag to catch a whitefish, and baby number three shows his face for a split second. See him/her? Right below the parent. Fun, mostly.

---
Otto Bounces BackPosted: Sun, 11 Jun 2017Otto the Rough-legged Hawk was on death's doorstep two weeks ago today, and appears to be recovering. He is 20 years old, joining us as a hatch year bird after a car collision in the Flathead Valley and broken wing. The Sunday of Memorial Day weekend he was laying on the ground and I frantically started making phone calls for advice. Lisa Rhodin at the rehab center in Helena suggested a steroid injection and we located some Dexamethazone at the home of our semi-retired veterinarian Dr. Melinda Robin in Hamilton. We didn't know if it would work as it was a long-expired bottle, but somehow Otto hung in there. Then a fresh batch on Tuesday, tube feeding twice a day, and in a kennel and baby crib. After a week he suddenly stood up and walked across the yard! Our vet friend at Auburn University suggested doses of Metronidazole to treat his GI tract, prescribed by Willow Mountain Veterinary in Corvallis and acquired at Florence Pharmacy. Now he is in a building, standing on a perch and looking perky! Just hoping he'll eat on his own soon, as still tube feeding which neither of us enjoy at all. What a group effort and beloved bird.

---
New GHOwlPosted: Tue, 06 Jun 2017Just over two weeks ago, a baby Great Horned Owl joined us from the Wildlife Center of Montana in Helena. Director Lisa Rhodin knew we were hoping to acquire a second Great Horned Owl and took in this downy chick after he was confiscated by authorities. Some people in Chester, Montana were keeping him as a pet (and feeding him hamburger) - a big no-no. Federal and State Permits are required to keep these birds, with strict regulations and reports. So Simon as we named him is an imprint bird, and thinks he's "people." We have applied to have him placed on our Possession Permit and then he'll join the Teaching Team, giving the other big owl Jillian a break.