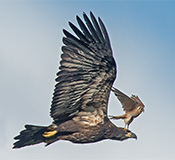 My favorite photo - a newly fledged Bald Eagle has a feisty American Kestrel take a ride for a second, taken at the river behind the house.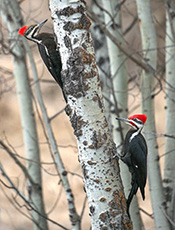 Pileated Woodpecker pair in the front yard. New photos nearly every day on our Blog page!



Things are always hopping at the Raptors of the Rockies organization. We're taking care of the birds and maintaining their enclosures, we're conducting raptor programs at local schools and organizations across Western Montana, art is flying out of the studio, we're taking photos and shooting video, we're out in the field birding and/or doing research, and much, much more.

To help you keep up with the flurry of activities happening at Raptors of the Rockies, we're blogging on a more-or-less daily basis and our most recent posts are listed below. Enjoy!
---
Caddy FamilyPosted: Tue, 21 Nov 2017So happy to post these photos from Pam Voth, and here is Simon the Great Horned Owl meeting Adrian Caddy and the sculpture brought over from the UK, a perfect rendering in chain saw art. Simon is named for Adrian's son that was tragically killed in a motorcycle accident this spring, and Adrian had this likeness of the owl made by an artist friend. He brought it over in carry-on by airplane and we had a tender meeting at the Raptor Ranch a month ago. Thanks Pam for capturing the moments.

---
Sibley TodayPosted: Sat, 18 Nov 2017Chasing game! Actually Mookie the black lab dog...
And check out our newish photography web site: http://raptorsoftherockies.com


---
Fly!Posted: Fri, 17 Nov 2017
---
Back from RRFPosted: Thu, 16 Nov 2017Made it home safe and sound from the Raptor Research Foundation Conference in Salt Lake and what fun, with 300 attendees, I swear 1/3rd were students. Great hope for the future of research and this fine organization. Banquet night and student award winners, including long-time friend Tempe Regan on the left. She told me she saw a Raptors of the Rockies assembly when she was a kid.

"You came to my school in Superior,

Montana when I was 9 years old. I remember

you standing there with a bird on your arm

and being in awe and thinking I want to do

that!" Yep,

Feb. 21st 1996, ad her second such award from RRF, her first in 2015!



---
Off To RRFPosted: Mon, 06 Nov 2017The highlight of the year since my first conference in 2004 has been the Raptor Research Foundation annual gathering, leaving tomorrow for Salt Lake City. This time the hosts are heroes HawkWatch International and I'll be photographing the events, attending the scientific program, and helping Nick Dunlop out with the photography competition. I presented at that first meeting in Bakersfield, which was in conjunction with the California Hawking Club. I'll never forget the last question at the desk when I arrived, "Will you be checking in with a hawk?" I was hooked.
I am entering this shot of Sib standing on my buddy Dale Simmon's head in the humor category of the contest. Cracks me up - she had knocked a pheasant down there somewhere.

---
More of the CaddysPosted: Sun, 05 Nov 2017At the shooting range at Michael DeNeve's (thanks Mike!) then down to the river and the eagle nest, Adrian and son Alex, our pals since 2002.

---
SibleyPosted: Sat, 04 Nov 2017
---
Just Hitting the Stands...Posted: Fri, 03 Nov 2017

...and mailboxes! I have the cover, inside spread, and four other photos story by Julie Lue, also of Florence. "Our" nest on the Bitterroot River, 55,000 copies printed and sent across the country. Montana Outdoors editor Luke Duran reports that 60% are mailed out of state, cool.
---
Simon's First SchoolPosted: Wed, 01 Nov 2017This was even more earth-shattering as we had a special guest sitting here in the front row. Our young Great Horned Owl is named for a dear friend that was killed in a terrible motorcycle accident right when the baby bird arrived at his new home. Simon's brother Alex was visiting from Britain and perfect timing for him to see avian Simon the Owl dazzle the kids. And our best buds Vern Argo and Kristen Wood in the Grizzly football wear there in front as well. It was quite the experience, emotional for many of us and glad to have Alex back in the Big Sky.

---
Saturday ChasePosted: Mon, 30 Oct 2017I thought the Ospreys were long gone, but this one flew by Saturday evening, chased by a youngish Bald Eagle! Glad I had the "little" camera handy, 400 mm on the Nikon D810.