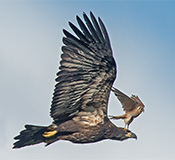 My favorite photo - a newly fledged Bald Eagle has a feisty American Kestrel take a ride for a second, taken at the river behind the house.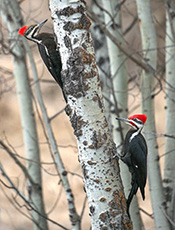 Pileated Woodpecker pair in the front yard. New photos nearly every day on our Blog page!



Things are always hopping at the Raptors of the Rockies organization. We're taking care of the birds and maintaining their enclosures, we're conducting raptor programs at local schools and organizations across Western Montana, art is flying out of the studio, we're taking photos and shooting video, we're out in the field birding and/or doing research, and much, much more.

To help you keep up with the flurry of activities happening at Raptors of the Rockies, we're blogging on a more-or-less daily basis and our most recent posts are listed below. Enjoy!
---
JanuaryPosted: Sat, 20 Jan 2018
---
1979 Mad Dog Blues BandPosted: Fri, 19 Jan 2018In a previous life I was the singer in a blues band, this photo re-surfacing from the Olden Days of Missoula - Luke's and the Top Hat and a couple of tours in 79's including the first ever Sweet Pea Festival in Bozeman. They had mistakenly booked us as a folk band and I think we changed the audience blend when we came on stage with some hard core blues. That's Diana Redlin (harmonica), Kate Phillips (vocals), Kevin Canty (guitar), Mark Ellsworth (piano), Erik "Fingers Ray" Gustafson (guitar) and Don Mazolla (drums). What a trip.

---
What is Happening Here?Posted: Thu, 18 Jan 2018

Hint - a.) it's the peregrine, and 2.) look at the shadow.
---
Another Blast from the PastPosted: Sat, 13 Jan 2018Our first Great Horned Owl Bobo also taken in 1989 with slide film! Named not for the species Latin name, but for a friend we had that slept all day, nicknamed "Bobo."

.
---
We Did It! 30 Years of Raptors of the RockiesPosted: Thu, 11 Jan 2018

Add it up, thirty years and here I am with our first Red-tailed Hawk Clive photo taken in 1989 by Barry Gordon.
---
Northern Harrier Winter!Posted: Wed, 10 Jan 2018

Voles, be afraid. Very afraid
---
Our Fundraiser for 2018Posted: Wed, 03 Jan 2018
---
And AnotherPosted: Mon, 01 Jan 2018Tundra Swans in the Bitterroot today:

---
Yeseree!Posted: Sat, 30 Dec 2017
---
Our VetsPosted: Thu, 28 Dec 2017Special thanks this year to our veterinarians, Dr. Melinda Robin and Janna Lukomski here in front of Willow Mountain Veterinary Clinic in Hamilton, pre-snow. We have enjoyed their medical services for 16 years and Dr. Lynn has retired, mostly, working one day a week. Unfortunately we required her services several times this year with bird emergencies, and luckily she's "on call" day and night with advice. Here she shows off our calendar, Janna and Tom on the right. Plus Sonora the Aplomado Falcon's new hang-out in the office, birdwatching outside.