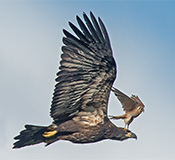 My favorite photo - a newly fledged Bald Eagle has a feisty American Kestrel take a ride for a second, taken at the river behind the house.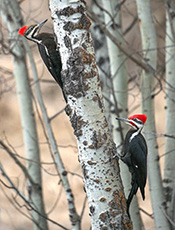 Pileated Woodpecker pair in the front yard. New photos nearly every day on our Blog page!



Things are always hopping at the Raptors of the Rockies organization. We're taking care of the birds and maintaining their enclosures, we're conducting raptor programs at local schools and organizations across Western Montana, art is flying out of the studio, we're taking photos and shooting video, we're out in the field birding and/or doing research, and much, much more.

To help you keep up with the flurry of activities happening at Raptors of the Rockies, we're blogging on a more-or-less daily basis and our most recent posts are listed below. Enjoy!
---
Sib Rules!Posted: Sun, 17 Dec 2017

Sibley the Peregrine today cutting loose after a week of Raptors of the Rockies programs. Bitterroot College, Kiwanis Club, and Bitterroot Cross

Country Ski Club/Audubon.




---
Twelve Years ApartPosted: Wed, 13 Dec 2017A photo of Sibley this week, and our logo from about a dozen years ago.

---
August 21 - December 7Posted: Fri, 08 Dec 2017


---
Birds In the HousePosted: Fri, 08 Dec 2017
---
Front and CenterPosted: Tue, 05 Dec 2017No one asked me why I was taking pictures of the magazine rack at Rosauer's yesterday. There is my magazine cover Montana Outdoors eagle, right next to the ever-popular World War II issue for December!
Plus, order your calendar soon - we are running out fast. $15

---
December's FunPosted: Sun, 03 Dec 2017

December is here, hunting 'em up.




Join us for a program for the Cross Country Ski Club, Thursday December 14th: Open to everyone -6 p.m. potluck, 7 p.m. program with PowerPoint and raptors. At the Presbyterian Church, 1220 West Main St. in Hamilton, and lots of fun for all. Meet Sibley, Simon, Simone and Owen, books and calendars to benefit our program, 30 years!



---
Raptor Round-Up #54Posted: Thu, 30 Nov 2017It's "up" in living color on our website (click here) and a few hundred in the mail, the old-fashioned way. This one is packed with photos of our birds and see neighborhood birds, and a few squirrels! Plus a fire flier that I made this summer. Whew. Sure takes a while to put these together, and hopefully fun to read. Thanks Webmaster Steve Palmer!

---
Salish Language School Field TripPosted: Tue, 28 Nov 2017

The very shy (!) youngsters were back, and we were worried about the snow of late November. Teacher Shanna assured me, "They love snow!" And apparently pigeons, dogs, and birds of prey. We lucked out on the weather end. Below, the scope really was on the eagle nest to start with (not for long.) And this 5-year-old with a kestrel bookmark informed me privately several times, "They ARE predators." Brilliant.
---
Anne and Eric's ReunionPosted: Sun, 26 Nov 2017

My pal Anne Iverson from Mountain Press Publishing Co. and husband Eric Edlund hosted a gala reunion over Thanksgiving, a tradition for many years. They booked the stone chalet in Stevensville, just a hop,skip and a jump from Florence so I suggested a tour of the Raptor Ranch. Twenty folks from mostly Seattle and California but also Iowa and Illinois spent a few hours exploring, which culminated in this customary singing of "Happy Tails" as a finale. They had substituted their own special lyrics that one new friend told me they added in 1973 in San Francisco. Wow, I thought my ears were playing tricks on me. Apparently they call themselves The Nitwits, a fun group and inappropriate moniker as they identified the last names of all of our Jazz Birds, especially Wes (Montgomery) the kestrel. Okay, Becky got them all correct, and thanks for your generosity, not Nitwits at all!



---
Eagles at DawnPosted: Sat, 25 Nov 2017A photo from the deck at the house just now, and these eagles have been down hanging at the river quite a bit lately. The nest is right above where I signed my name, and easier to see with the leaves gone. On a roll with editing photos from the Raptor Research Foundation Conference (down to 566 from 800 taken!) Plus working on our Raptor Round-Up Newsletter Number 54, and wait 'till you see this one - birds and fires. Hope to have it out by mid-week, thanks to Pyramid Printing in Missoula. Yep, I still mail out 200 copies.