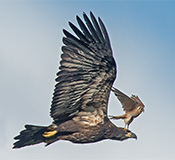 My favorite photo - a newly fledged Bald Eagle has a feisty American Kestrel take a ride for a second, taken at the river behind the house.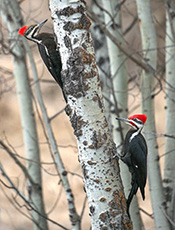 Pileated Woodpecker pair in the front yard. New photos nearly every day on our Blog page!



Things are always hopping at the Raptors of the Rockies organization. We're taking care of the birds and maintaining their enclosures, we're conducting raptor programs at local schools and organizations across Western Montana, art is flying out of the studio, we're taking photos and shooting video, we're out in the field birding and/or doing research, and much, much more.

To help you keep up with the flurry of activities happening at Raptors of the Rockies, we're blogging on a more-or-less daily basis and our most recent posts are listed below. Enjoy!
---
Monday NightPosted: Tue, 22 Aug 2017The fire is hovering over the ridge leading to One Horse Creek, right across the valley. And here's an eagle that's terrified of an Osprey, in the smoke. I changed my camera settings to "clouds."

---
3pm TodayPosted: Sun, 20 Aug 2017


---
FridayPosted: Sat, 19 Aug 2017
---
Lolo Peak FirePosted: Fri, 18 Aug 2017Currently 19,000 acres and exploding! Our yard yesterday at 4 pm, and Chinook water drop.

---
My Favorite Non-raptor Photo of the SummerPosted: Thu, 17 Aug 2017
---
Kill the Kleptoparasite!Posted: Tue, 15 Aug 2017

Ospreys having some fun with a big bully that stole their fish all spring.
---
Tower? Are We Set For a Landing?Posted: Sat, 12 Aug 2017
---
Simon the OwlPosted: Fri, 11 Aug 2017Simon the Great Horned Owl joined us in May (first photo) and is now a teenager with the beginnings of ear tufts! He is part of the family, in the house every day, and will be an awesome program bird.

---
Parents: Do You Know Where Your Children Are?Posted: Thu, 10 Aug 2017Answer: On the top of our eagle enclosure.

---
Battles on the BeachPosted: Tue, 08 Aug 2017Ospreys can rarely resist a pot shot at an eagle. I've said it before, and my non-scientific explanation is that they are getting revenge for all of the fish thefts by the eagles in the spring. Get your own fish, Baldie!