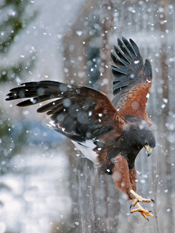 Chesty the Harris's Hawk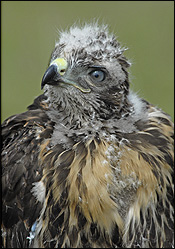 A young Red-tailed Hawk, released 2008.



Things are always hopping at the Raptors of the Rockies organization. We're taking care of the birds and maintaining their enclosures, we're conducting raptor programs at local schools and organizations across Western Montana, art is flying out of the studio, we're taking photos and shooting video, we're out in the field birding and/or doing research, and much, much more.

To help you keep up with the flurry of activities happening at Raptors of the Rockies, we're blogging on a more-or-less daily basis and our most recent posts are listed below. Enjoy!
---
Falconry RendezvousPosted: Wed, 29 Mar 2017

As the ultimate honor, I was a speaker for the Falconry Rendezvous at the Falconry Archives, The Peregrine Fund in Boise.

This annual gathering honors those who have passed with a speech and plaque on the

Wall of Remembrance. At the evening banquet I was pleasantly surprised when the audience of falconers broke into applause for that full framed photo of young children reacting to the Golden Eagle, Nigel. And even more delighted when they responded to my request to "hoot like an n owl." Well, most of them anyway. Falconers tend to not enjoy Great Horned Owls as they may kill their cherished hawks or falcons. This was a major highlight and just what the doctor ordered. Here Tom Cade honors our friend John Craighead, and that photo the falconers liked so well:
---
Raptor Round-Up Holiday IssuePosted: Sat, 25 Mar 2017I mean, Easter E

diti

on. Just up and read it here first. I'm only four months late due to the medical crises that started in November. Like I say on the front page,

Many thanks to our Raptor Backers! You rallied even without the end-of-the-year encouragement and we enjoyed extraordinary sponsorship once again.

Read about The Raptor Research Foundation Conference, two trips to The Peregrine Fund, iPod on airplane tails, and the longest list of sponsors ever. Lots stuff. And in living color here:

---
Spring!Posted: Fri, 24 Mar 2017
---
RavensPosted: Wed, 22 Mar 2017The female eagle took off after an incubation change of duties and flew with about forty ravens, but couldn't get a photo straight up into the sky just at dark. Actually, didn't even try. That was a view I will never forget, a slow twirl en masse hundreds of feet up, and so mesmerizing, watching for ten minutes.

---
My First Ground Squirrel Shots!Posted: Mon, 20 Mar 2017
---
BAEAPosted: Sun, 19 Mar 2017A shot from St. Patrick's Day of a Bald Eagle that begs, "Hurry up, tail molt!"

---
First RobinPosted: Sat, 18 Mar 2017How appropriate that the first Robin in the yard was perched on the Gyrfalcon sculpture. Below is a "slide" I included in my PowerPoint last Saturday at the Falconry Rendezvous in Boise. That's a sketch by Hans Peeters instructing me how to weld that critical ventral area of "cleavage." Got a laugh from the fellow falconers!

---
iPod on Airplanes!Posted: Fri, 17 Mar 2017

I just flew to Boise for a speaking engagement Saturday at the Falconry Rendezvous, Archives of Falconry at The Peregrine Fund. Our friends Dan and Sue Anne Lass showed me this photo of a Pygmy-Owl on the tail section of a Frontier airplane, Sue Anne's employer as she is a flight attendant. That's iPod! My first time to see our little owl appearing and he's on 119 jet tails, thanks to Frontier CEO Bill Franke who loves our Raptors of the Rockies program.



---
The OttersPosted: Thu, 16 Mar 2017
---
Back to the BeachPosted: Wed, 15 Mar 2017After a four month hiatus spent in St. Patrick hospital and now Village Health Care with my mother, it's back to the beach with the camera and dogs! The deep snow also made it a post-hole nightmare getting down there and I only made it once on Feb 28th. Beginners luck with the male eagle and OTTERS! Yes otters right across the rover. They looked like youngsters from last year perhaps, and not too spooky. From observations through the scope in the living room, I'm guessing incubation began around March 5th, so chicks week of April 10th, sure hope.