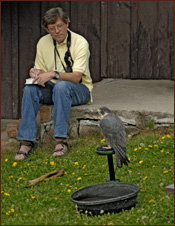 Author and artist, David Sibley does a sketch of Sibley, our Peregrine at a program at Pine Butte Guest Ranch, with the Nature Conservancy. For nine years, we have been invited to do a program then go bird watching!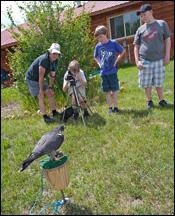 Ron Scholl and students from our summer Young Filmmakers Workshop, Missoula Community Access Television.



Raptors of the Rockies conducts a number of public programs and hosts a variety of fund-raising gatherings throughout the year. In addition, Kate and her birds are guests every two months on the popular "Pea Green Boat" radio show on KUFM, Montana Public Radio and she has been featured on local TV and the award-winning PBS program, Bird Watch, Ducks Unlimited TV, and the Animal Planet. Public events coming up include…
Pea Green Boat, Montana Public Radio: Our last boat ride of the year with host Annie Garde, lots of Christmas cheer, Sibley the Peregrine and iPod the Northern Pygmy-Owl as guests. 4:00-5:00 pm on the left of the FM dial, 89.1 FM in Missoula and live and streaming everywhere on the planet at mtpr.org.